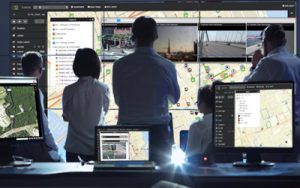 Actionable Information
Alastar collects and fuses data from various feeds including incident reports, resource tracking maps, weather, traffic, stationary cameras, and reports, photos and videos submitted by in-field personnel. The 'Big-Picture' is presented in an intuitive, easy-to-navigate interface that can be customized based on user preferences.
Alastar is role-based. Users only see the information they need to do their jobs. An easy-to-use administrative panel lets leadership set access.
Flexibility
It's easy to pull information into Alastar from various feeds. You can quickly assemble all of the information you currently have access to and easily add additional resources as they become available.
When and Where You Need It
Alastar delivers situational awareness when and where you need it. It can be viewed on any device that has internet access, including workstations, laptops, smart phones, tablets, or video walls. Users can access Alastar in vehicles, offices, command centers, or in the field.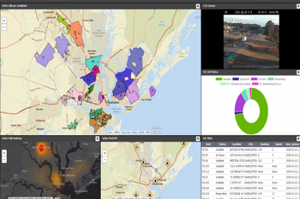 Dashboards
Dashboards are easy to create, configure, and share between individuals or groups of users.
Alastar dashboards are configurable sets of relevant, usable information. These dashboards ​​present a clear concise 'big picture' from continuously updating data sources, on one screen, in the most relevant or effective format (table, maps, graphs, video).
The ability to have multiple dashboards allows agencies to context switch whenever the situation requires a different set of information. For example, an agency could have access to an operational overview dashboard as well as a dashboard focused on an agency's role within the operation. This allows agencies to only see the most important information relevant to them at any time.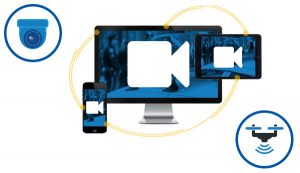 Video
Alastar Video can be accessed on any device – phone, table, computer or drone – for real-time streaming anytime, anywhere. Alastar has the ability to integrate multiple types of video from multiple sources.
An agency or user does not need to own cameras in order to benefit from them if other organizations/agencies are willing to provide access to those cameras.  Alastar can integrate agency-owned cameras, cameras owned by private industry/business and cameras from mobile devices such as cell phones, tablets or drones.
The ability to leverage mobile devices provides considerable value to agencies as it allows them to leverage relatively low cost cameras to provide real-time streaming video. Once the camera feeds are captured, they are viewed on Alastar's Camera Wall where the individual has the ability to create impromptu virtual video walls or maximize the utilization of their existing video wall.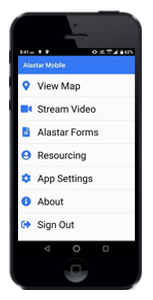 Forms
Data Sharing
Alastar Forms not only make documenting findings easier and more efficient, but also help improve communication between users. Forms can be used on any smartphone, tablet or computer.  As soon as a user in the field comes across an object of importance, they can open Alastar Forms and fill out the appropriate form with the information they have and are able to include photo attachments.
Geo Location Technology
The Forms also take advantage of Geo Location technology in the device to allow the user to have their latitude and longitude documented if an address is not available.
After a user has saved a form, the information will appear as a point in a layer on the Alastar map at the location it was created. This allows a user to oversee all findings as well as update forms straight from the map without having to go search for the form or the user who created it.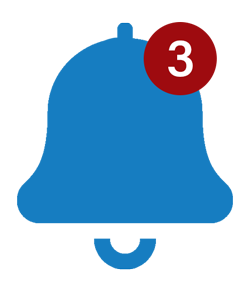 Notifications and Alerts
Alerts can be set up to notify users of specific events and activities through SMS, email or the Alastar interface. The real-time data monitoring looks for changes in the data and when the data matches preconfigured rules, Alastar sends a notification to an individual or group. Individuals are not required to have an Alastar account in order to receive email or SMS notification.
Alert rules can be set up to look at specific fields in a layer using standard queries (contains, starts with, ends with, greater than, etc.). In addition to looking at the data, alerts can be configured with customizable geo fences so users can get notified of changes within a specific location. For example, the alerts could be set up to warn field personnel with oncoming inclement weather. Another example would be a notification sent to key personnel when certain types of derelict vessels are logged in Alastar forms.
The appearance of the alert looks on the map can be customized. There are visual markers to denote whether the alert has been read so that the user never misses an alert. Alerts on the map make it easy to zoom to the area where the alert occurred.