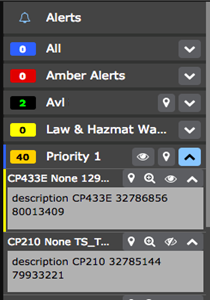 Alerts can be set up to notify users of specific events and activities through SMS, email or the Alastar interface.  The real-time data monitoring looks for changes in the data and when the data matches preconfigured rules, Alastar sends a notification to an individual or group. Individuals are not required to have an Alastar account in order to receive email or SMS notification.
Alert rules can be set up to look at specific fields in a layer using standard queries (contains, starts with, ends with, greater than, etc.). In addition to looking at the data, alerts can be configured with customizable geo fences so users can get notified of changes within a specific location.  For example, the alerts could be set up to warn field personnel with oncoming inclement weather. Another example would be a notification sent to key personnel when certain types of derelict vessels are logged in Alastar forms.
The appearance of the alert looks on the map can be customized. There are visual markers to denote whether the alert has been read so that the user never misses an alert. Alerts on the map make it easy to zoom to the area where the alert occurred.